(Published in French in Le Monde Afrique)
In a Yaoundé notary's office in 2007, a handful of people gathered to close a deal worth over 10 million euros. CamIron, a local company that held a valuable iron ore permit, was sold to an Australian mining junior called Sundance Resources. This permit had been given to CamIron just a year earlier by the Minister of Mines, Charles Salé.
Salé's wife, Rosine Paki Salé, also attended the notary's meeting. She was a shareholder in CamIron and stood to gain half a million euros from the deal. She signed to sell her shares and the representative of Sundance signed just next to her. Sundance and Rosine Salé refused to reply to my questions.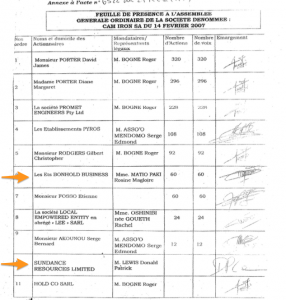 For Sundance, the road leading to the deal had been rocky. After the sale was announced to the stock exchange in 2006, the "local shareholders" and Salé's Ministry of Mines threatened to cancel the permit if Sundance didn't cough up more shares. The company urgently dispatched an envoy to Cameroon to solve the situation. After some negotiation, the "local shareholders" got another 5% ownership in the project, for free.
Sundance's press release to the stock exchange to announce the share's gift stressed that "Mr Sale said that he was particularly delighted with Sundance."
The company claimed the shares "will be held in trust for the local Mbalam community and the balance held by the Company's local management and investors." In 2014, I visited the small village of Mbalam, neighbouring the project and they hadn't heard of the shares supposedly meant for them.
In previous articles I outlined how the same company, Sundance Resources, gave shares to the family of Congolese president Sassou-Nguesso in exchange for a mining permit (the president's family denies it). This revelation started an investigation by the Australian Federal Police in a project code-named "operation downtown."